Pop Up Brighton
I first became aware of Pop Up Brighton about a year ago, when helping them out with the 2014 Summer Exhibition at Circus Street. Any group who has the energy, ambition and time to get together 4 different collectives (that I counted) plus organise an ice cream van, a light show at the private view and a brilliant community inspired dinner party on Saturday night, will automatically impress. When you find out that Pop Up Brighton is organised by one man, and doesn't charge any of the artists for his time or space, it made me fall in love with the idea.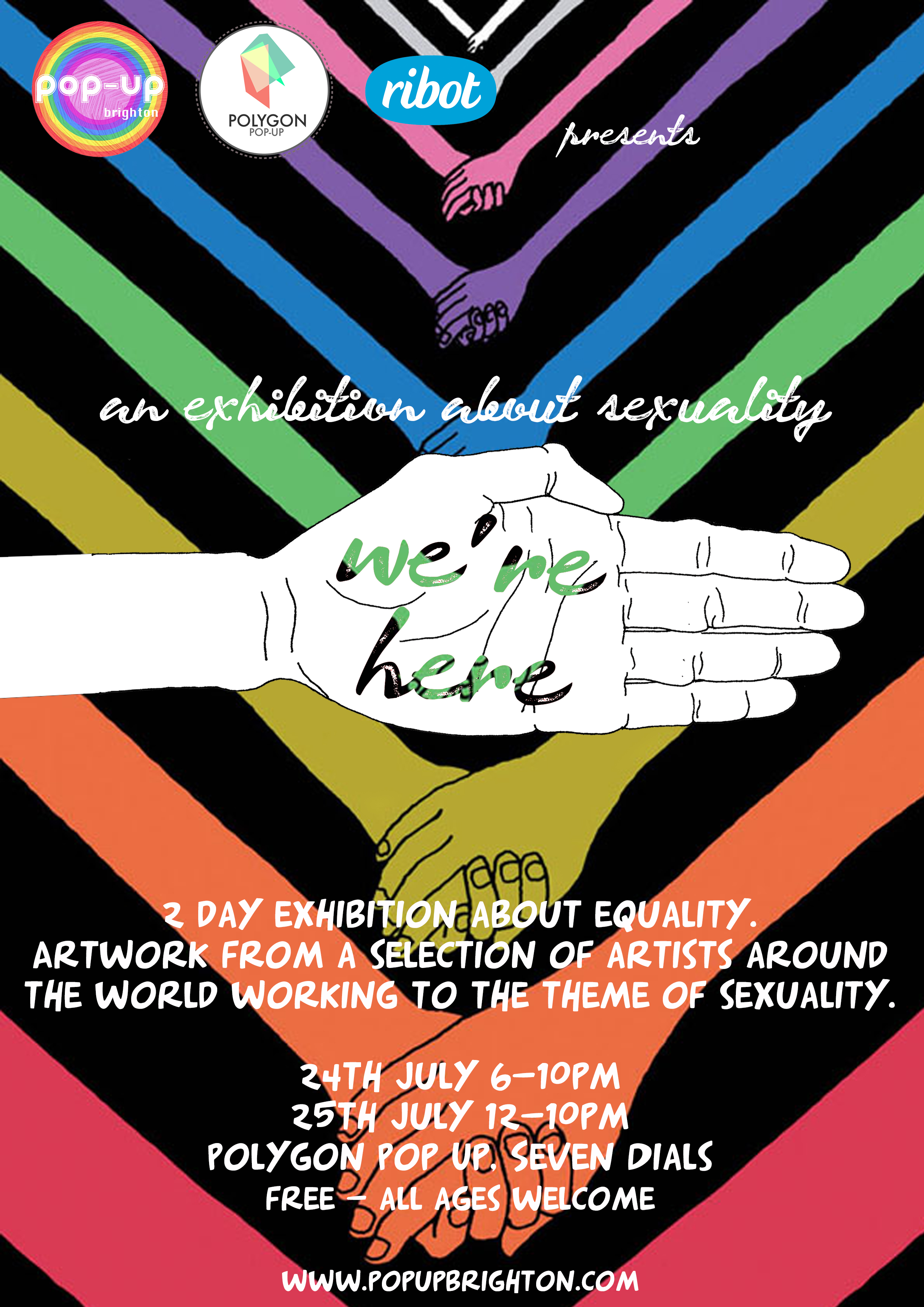 Started by Ashleigh Ward in 2011, Pop Up Brighton aims to give artists great spaces and opportunities to show their work without charging an entry fee. With a distinctly "pop up" and individual feel to each of the exhibitions and initiatives, you will usually find a Pop Up Brighton initiative taking place somewhere around town.
Starting with the most ever-present – "It Is What It Is" is a shop hosted by Pop Up Brighton that has hosted various different groups throughout 2015. The twist is that they only have one week to explore what they do, and gives the group hosting the space for that week relatively free rein to run the space. This means that from week to week you could have anything from illustrators and artists, to human rights activists, all the way through to a pop up record shop.
These cross-arts initiatives seems to be a Pop Up Brighton trademark, giving the artists space to breathe and explore whichever ideas they want. This is reflected in their contribution to Brighton Digital Festival.
BYOB or Bring Your Own Beamer was an exhibition started in 2012 as their contribution to the Brighton Digital Festival, inviting artists to bring their own projector and show their films. Hosted by Ashleigh and very much put together on the day, the curatorial challenge in putting together films not in context with each other must have been great.
It paid off and proved to be a huge success, showing in the Brighton Dome Concert Hall in 2013, and finally in the Corn Exchange in 2014 and 2015. Entries for the exhibition is now open which you can find on their website.
These are just two of the more prominent examples, but generally they will do lots and lots of little Pop Ups at significant events throughout the year (follow them on their various social media outlets for full details). The consistency and inventiveness of Ashleigh's events make Pop Up Brighton one of the most important artistically-based Brighton start-ups, allowing artists to be artists and experiment without fear of high cost spaces elsewhere.
http://www.popupbrighton.com/
Polygon Pop Up: https://www.facebook.com/pages/Polygon-Pop-Up/1438165469831273
As an example of one of the smaller exhibitions, Pop-Up Brighton hosted "We're Here" at Polygon Pop Up, a celebration of sexuality to celebrate the 25th anniversary of Pride. Below, you can find a little video that shows the exhibition and some more information about them.
It's my first video, so please be kind.