Rachel Kneebone – University of Brighton
Enticing Rachel Kneebone, an artist who has had solo exhibitions in New York and the White Cube, Bermondsey, shows brilliant ambition by the Festival organisers, and they must be applauded.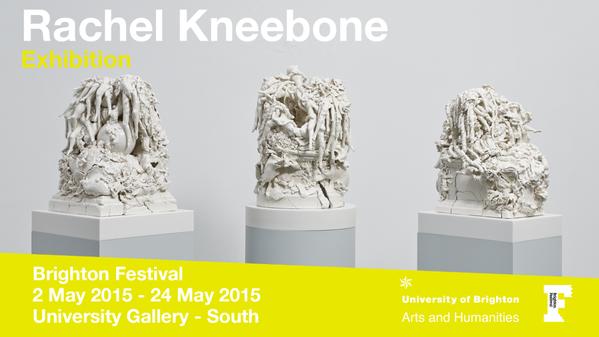 A simple set up of three of her sculptures set on plinths in a line in the University space, helps to make the work the stars. A brilliant curatorial choice. Her porcelain sculptures questions the traditional idea of beauty, whilst simultaneously exploring links between man and nature. The work was comprised of decadent overgrown plinths with roots, punctuated by beautifully surreal body parts.
The fragility of the porcelain and the simplicity of the space helps to highlight the sheer workmanship that goes into each of Kneebone's pieces. Each piece is carefully constructed before being ruthlessly cracked by the firing process. She blurs the line between the formed and the broken, capturing the traditionally transient state of "breaking", permanently. Almost like a 3D delicately constructed freeze frame. The process and artistic influence of her work alluded to by the choice of Michelangelo quotes on the wall, with a dollop of surrealism thrown in.
It is a real privilege to have Kneebone showing in Brighton, one whose work is so strikingly unique and alluring.