Anatomy for Life @ Jubilee Library
Until the industrial revolution it was an honour for people to be known as a "renaissance man" – that is someone who is a scientist, artist and author. Leonardo Da Vinci was one, the other that springs to mind is the romantic works of William Blake who created art, poetry, also fascinated by nature and science.
Suddenly there was a culture shift, you had to choose to specialise in one of these so-called "industries". Perhaps through a belief that this thought process was wrong and actually it is possible to be multi-disciplined, galleries and movements such as the Wellcome Collection in London made an effort to bring arts and science closer together.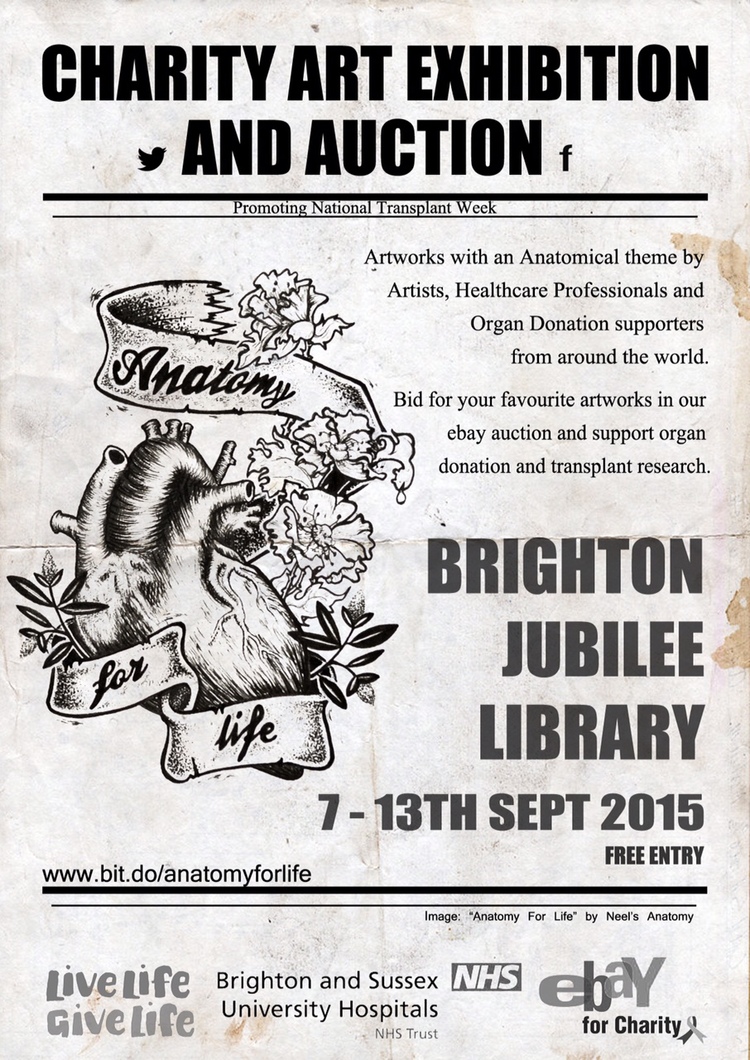 It is partly this idea that motivated Conrad Lee to create the Anatomy For Life exhibition in 2013, followed by an exhibition this year, but mainly to raise awareness for organ and body donations. This week it is also National Transplant Week and, according to statistics, on average three people die every day because there just aren't enough organs available.
Something needs to be changed to deal with this disappointing loss of life, and art can do its bit. It does something powerful which allows people to create conversations around huge topics such as this, using visual creations as a way in. This in turn, cultivates a potential change in attitude around the question of what to do with our body after we die.
The exhibition is open to entrants of all walks of life and is displayed in Jubilee Library anonymously, and asked people to create postcard sized work on what organ donation means to each of the entrants. There are a fair few artists who have entered, most notably Anna Dumitriu, but there are lots of surgeons and doctors, and even children's thoughts on this huge subject.
The artwork is therefore hugely varied in style and content, and range from the very literal, detailed observations of the anatomy to the more abstract.
Dr Anna Barnes, one of the volunteers helping with the exhibition, said: "A lot of surgeons and medics are passionate artists themselves, and move to Brighton for the creative environment. They will use their medical practices to pay the bills.
"This isn't surprising as surgeons and medics have to have very good hand eye co-ordination, so it is natural that they would be artistically talented."
Personally, I found this fascinating, and think the relevance between science and arts is more pertinent than ever. And, having looked online, the pieces are incredibly reasonably priced for the standard of work displayed. The bidding is open (accessible here: http://www.ebay.com/sch/anatomyforlife-uk/m.html?) with all proceeds going to Live Life, Give Life.
On Saturday 12th of September, there is also a body painting session at Jubilee Library. Details for which can be found here: http://www.artinbrighton.co.uk/events/2015/9/7/bodypainting-with-anatomy-for-life
I would encourage you to come down and have a look, the work is certainly challenging and exciting, and will push you to ask: "What will happen to your body when you die?"